<! -- end posthead -->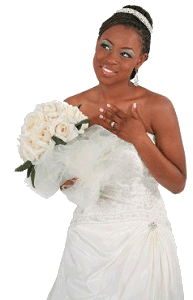 Wedding cost is one of the key factors to consider when planning a wedding. And with the average wedding costing over $20,000, it is easy to feel overwhelmed. But with a little thought and planning, the cost of your wedding can be kept under control and you can still have the wedding of your dreams.
Your wedding cost will completely depend on how much you actually have to spend. In other words, it will depend upon your budget. If you are just starting to plan your wedding, then you have undoubtedly heard that term a couple dozen times already. It might even make you cringe. But, no matter what size ceremony and reception you are thinking of having, your budget is crucial to helping you plan your special day and keeping your costs under control.
There are numerous things to take into consideration when working out your budget. The first thing to consider is who is actually financing your wedding. Is it you and your partner or are other family members chipping in? Once this is established and you have an idea of what you have to spend, you can begin to create your budget.
Using a spreadsheet or even just a piece of paper estimate costs for each aspect of your wedding (both the ceremony and reception). Add them all up to see your total wedding cost. If your total cost is higher than expected you will need to decide if you can afford it and where you might reduce your expenses.
Make sure you don't leave anything off your budget. You have a lot of different things to consider so make sure your lists are comprehensive. Using a checklist like the free checklist at Wedding Day Delights can help you fill in a lot of the details.
You need to consider everything including the cost of your dress, flowers, ribbons, candles, invitations, place cards, programs, thank you notes, favors, music for the ceremony, renting the venue, your marrying official's time…the list goes on.
Think about the groom's tux, cuff links, shoes, your veil, bouquets, any hair pieces, and whether or not you and your bridal party will be having your hair and makeup done professionally.
Are you having guests in from other cities or states? Think about transportation needs to and from airports or between the ceremony and reception. A limousine service for your bridal party will bump up your wedding cost, especially if you add pre-reception Champaign toasts.
The reception is usually where the wedding costs really start to add up. You need to consider venue, food, alcohol, flowers, centrepieces, decorations and music, such as a DJ or band. Sometimes you can find a wedding package deal that includes use of the space for a set number of hours as well as the food. It may also include the decorations, music and other elements of your day. When looking around for venues, be sure to ask about the different options each one offers.
Catering will be the most expensive part of your reception, but spending a little more money on food and a little less on flowers may suit you. Your guests will remember what they ate more than what flowers were on the cake.
You will also need to decide if you are you going to have a professional photographer and/or videographer. They do come at a significant cost, but your memories are priceless. Consider this decision very carefully. You don't want to regret your choice later.
Don't forget to include price of your rings in your budget. They can be amongst the highest-priced single items you will need for your wedding but are the longest lasting. After all, the flowers are gone after a day but you are planning to you're your rings for the rest of your lives.
With all these details to keep track of, setting a budget not only helps you keep your wedding cost in check but it also helps you stay organised and plan your wedding with ease.
For your Free Wedding Checklist and more information on how to work out your wedding cost, visit Wedding Day Delights now.